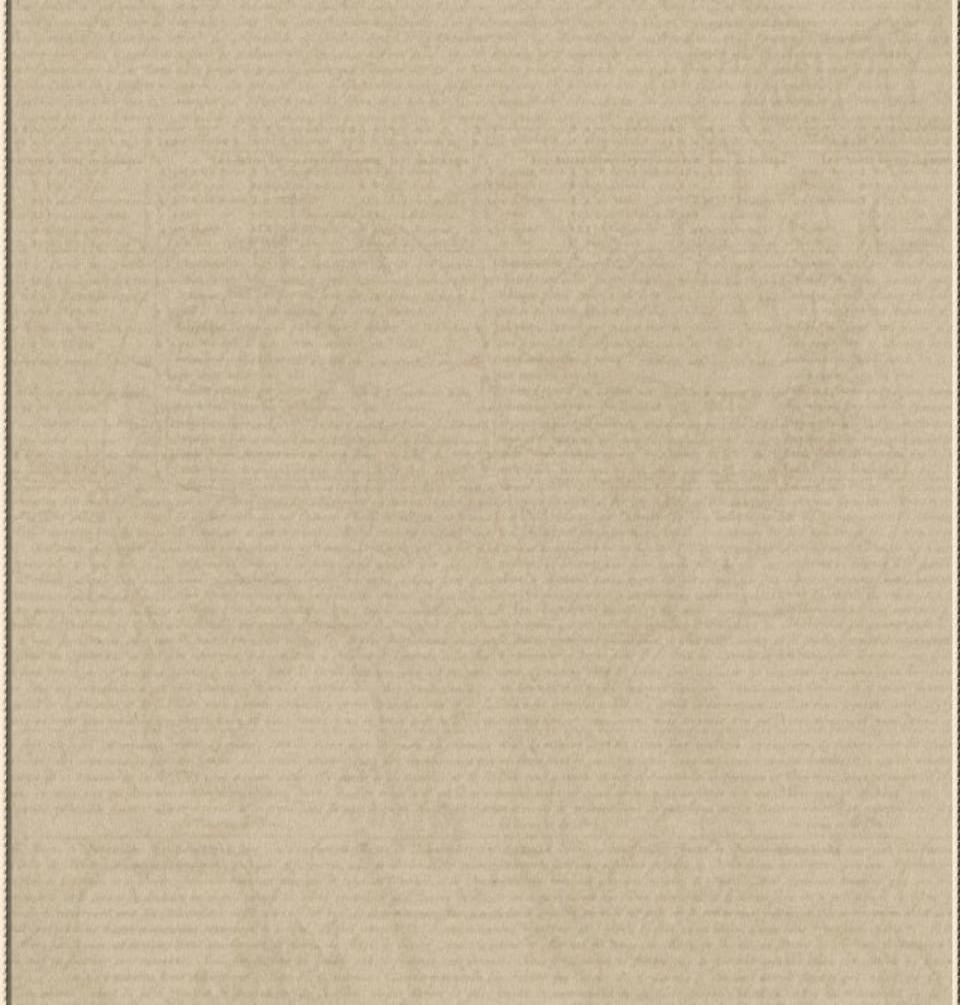 North Eastern York County History In Preservation NeyChip
Mount Wolf Borough Trivia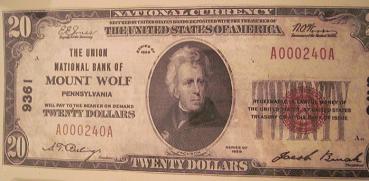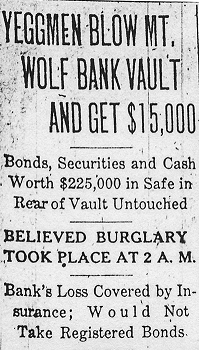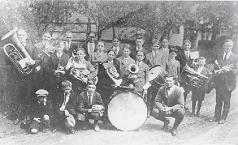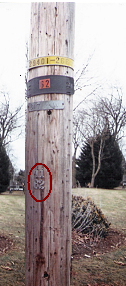 The last movie shown in the Mount Wolf Theater, in 1984, was "ET The Extra Terrestrial". The young projectionist for that last showing became a politician with initials J.F.K. We knew him later as, Mayor James F. Kinder. In that theater were other future politicians. The 2010-2014 Borough Mayor Joshua Bowers and Pa Governor Tom Wolf. Jim retired from the Mayor's office after serving for about a quarter of the Borough's history. He is surpassed only by Edwin Greiman, who held the office for the first 40 years. The theater was listed #22 on the Historic York 2009 Preservation Alert list. Jim again started the same movie, in 2010, as part of the Borough's centennial.
In 1751, the 185 acres of the now Mt Wolf Borough was purchased at a Sheriff's sale.

The official seal of the Mt. Wolf Borough has the same coat of arms as the Seal of the Commonwealth of Pennsylvania.
Mt Wolf had a 13 week Trivia Contest in 2010. See the questions, prizes and results.

Mr. Donge was the postmaster before George Wolf. We could of been called Mount Donge. Hoover, Holland, Manchester, and Railroad used to be names of streets in the Borough. Buttstown was a suburb of Mount Wolf. All, but two, alleys in the Borough are named after animals, with the first being named Wolf Alley.

The current Mt Wolf Elementary does not have a playground. They use the Mt Wolf Park. The school was first build as a Junior High. At that time, the State Dept of Education directed prospective High School builders to come see what they consider the finest of its kind and size in the State.
Most people, who have a Mount Wolf, PA. address, do not even live in Mount Wolf. East Manchester Township, Wolf post office with the zip code of 17347. Many are confused over the two Third and Fourth Streets (miles apart) but both in Mt Wolf. Most of the Borough does not have home delivery of the mail, including Governor Tom Wolf.
Most people do not know about a 10 acre golf course in the Borough limits.

The speculation that the town was named for Pennsylvania Governor George Wolf is farfetched. The George Wolf, who served as governor in the 1830's, had no relationship to the founding family, George H. Wolf, who served as postmaster and stationmaster in 1850.
A nice metal official sign from the State. But only half the sign is correct. It was sent to the scrap yard. However, there could be one "Home of Governor Tom Wolf".
Moved mouse over it to see the error.
Read historian Jim McClure's article on the bank robbery, in Mt Wolf, during the 1920's.
In 2014, Mount Wolf as called
"
A town without a traffic light.
" But, we have three ball fields.

Mount Wolf had it's own money?
On August 1986, the first Borough newsletter was published. By the third edition, October 1987, the Borough asked for suggestions on naming it's award winning newsletter. In Feb. 1988, the name "The Mt. Wolf Howler" was first used. However, it only howled a few times after that.
Mt. Wolf had in the past a marching band, concert band, community chorus and stage band.

Today, we will have to travel to England to hear
Mt. Wolf band. Click for their Mt Wolf Face Book.

Ordinance No. 4, adopted by Borough Council on January 1913, established the Mount Wolf Electric. In April 1917, New York's "Electric World" printed that Mt Wolf Borough contracted Edison Light & Power Company to take over the Borough's electric. The neighboring Brunner Island Power Plant, York Haven Hydro Electric Plant and Three Mile Island Plant do not supply power to Mount Wolf.

This pole shows the history of utilities in the Borough. The bottom individually nailed numbers (red circle) are from Bell phone company. The next metal ban are old electric company numbers. The orange digits are GTE/Verizon pole numbers. The top 10 digits yellow ban are MetED pole numbers.
Mount Wolf, Wolf Supply, Wolf Organization, Wolf's Church, York College Wolf Gym and Wolf Hall are all name from the same Wolf family. But Wolf Furniture is a different wolf.

Both the original United Brethren Church building and church parsonage were relocated in the 1920's. The church moved to New Cumberland and the parsonage to South Main Street.

One of the first official directives Borough Council, in 1910, was to have swimming in a nude manner under the bridge, near the trolley station, prohibited.

In 2002, a Borough website was developed by Benjamin Stambaugh for his senior high school project but the Borough did not publish his creation. However, his father, Charles, later followed in his footsteps by developing and publishing a website for the Borough in 2009.
It won second place in the 2011 PSAB State competition. It had about 400 pages to it. However, the Borough gave control of their website to a another in 2014. Charles has moved the Mt Wolf history section to this website.
During Mr. Lincoln's trip, to be placed in office, he stopped in Harrisburg to give a speech. He was to go through Mt Wolf but because of a plot to kill him, he went through Philadelphia instead. Just over four years later, his funeral train did go through Mt Wolf because of an assassin.

MountWolf.com is owned by Alexander in Riga, Latvia.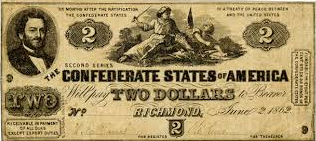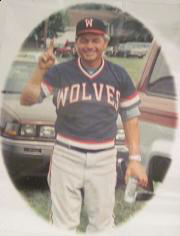 In what famous 1949 movie did Frank Sinatra, Stanley Donen, Jules Munshin, and Gene Kelly played baseballfor the Wolves?
( Answer, see under picture.)
Baseball was been a big part of Mt Wolf for over 135 years.
During the Civil War, Confederates took items from the Wolf's store. They paid him with Confederate money similar to above. They said " It's better than your green backs."
Tom Wolf still has that money today. Maybe it could help with the State budget.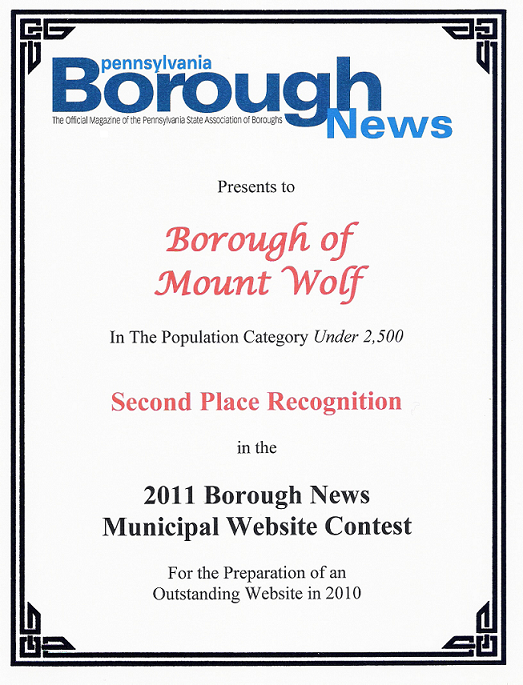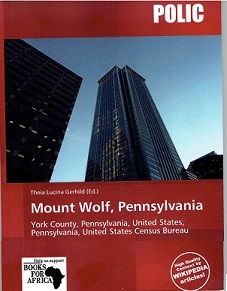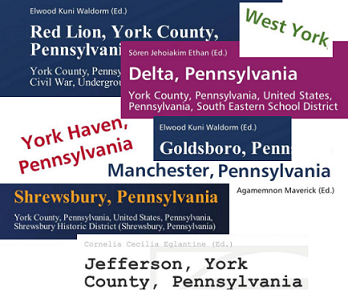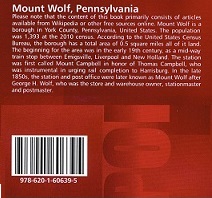 You Cannot Judge a Book By Its Cover.
While surfing on the internet, I found a book about my hometown Mount Wolf. I co-edited the 120 page "A History of Mount Wolf, The 2010 Centennial Edition" and founded NeyChip, the area's history organization. But, here is a book about Mount Wolf PA by Theia Lucina Gerhid, published by Polic of International Book Market Service under OmiScriptum Publishing Group. I read the back cover of the ad and it was about my Mount Wolf. I thought what do they know about Mount Wolf that I do not have? I had to get a copy. I searched but could not find it in any library nor from any US source. I had to order it from Germany at www.morebooks.de for $70. I learned that the book is part of a print on demand program. In other words, they only print a copy when the order is made. This keeps inventory down but the books costs more. (Interesting concept for low volume authors.)

I saw on their order page that they also had books on West York, North York, Manchester Borough, Jefferson, York Haven, Jacobus, Hallam, Goldsboro, Lewisberry, Delta, Felton, Spry, York City, even my school Central York and much more. I thought someone must really like York County. After weeks of waiting it arrived. I was really excited.

The book was 80 pages and was more of a booklet size. I first searched for Mount Wolf pictures. (I love old pictures from the area.) I found a picture of WWII landing on D-Day page 32. I saw a picture of the man stepping on the moon page 38. I saw a picture of Crayola 64 pack page 70. But no Mount Wolf pictures, not even the tall buildings on the cover was from the area. I then searched for a write-up about Mount Wolf and found it on pages 10 and 11. To be honest, what was on those two pages is what I placed in Wikipedia after the centennial events which I chaired. The rest of the booklet contained a short overview of York County, Pennsylvania, the United States and the Census Bureau. The booklet does state all that information is from the online Wikipedia. What a disappointment.

So readers, beware, you cannot judge a book by its cover. But at least I can say I had apart in something that was published on an international level.

John Schubauer was a Powpow doctor in Mt Wolf.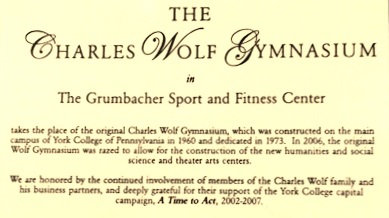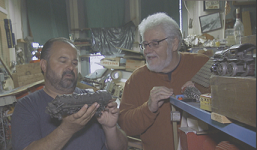 In 2016, Craig Holler, of the Train Depot, located in the old Mount Wolf train station, was visited by Mike Wolfe and Frank Fritz of American Pickers. Click to see their visit. Craig turn them down for a second visit. He later sold the train station to Tom Wolf.
Diana Wolf, wife of Chuck Wolf Jr, was on the board at the York County Heritage Trust when they presented this award to the Mt Wolf Centennial Committee.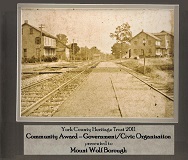 Maureen Starner was the first female Mayor of Mount Wolf elected
in 2015 and 2018.

Reddy Kilowatt was once part of MetEd. He is now restored and on display at York's Agricultural & Industrial Museum. Thanks to Mount Wolf's Dietz-Nauman.

1843-2013
170 years
In 1843 Adam and Edmund Wolf started a store in New Holland York County PA. In 1852, Adam's sons William W. and George H. Wolf moved the store and warehouse a few miles away near a train station. George was appointed the train agent and later postmaster. July 1861, the area was officially named Mount Wolf. The business continued to expand and so did the area around it. You can read the details of those early years here. In June 2013, there was a large 170th celebration. Watch that video. A few months after the celebration, Tom Wolf resigned from the Wolf Organization to run for Governor. The Wolf family and Mount Wolf are no longer associated with the business that had once made the area great. See Wolf Products new branding.

2018 Pa Governor's race was between Tom Wolf and Scott Wagner, the owner of Penn Waste, who picks up Tom's trash.


Diehl Funeral Home had once provided ambulance service.
NeyChip would love
to hear from you.
NeyChip@gmail.com